| | | |
| --- | --- | --- |
| The Pointless House of Quality: | | Employment at Pointless, Inc.! |
---
Your Job at Pointless
Openings at Pointless!

Technical Specialists - We are looking for skilled specialists with experience in dealing with airborne particulate plumes and reflective optics engineering. Qualified candidates will oversee communications for investor relations and other aspects of public relations. Join our world-class smoke and mirrors team today!

Accountants: - Arthur Andersen experience a plus. Must be able to convert negative revenues into record profits.

Lawyers: Experience with casinos or "Family" operations preferred.

Marketers: Looking for motivated people with experience in bulk e-mail (esp. targeted spam promotions) to drive our mass communications campaign. You can make up to $50,000 a week! Please send your bank account information with your application.

Engineers and Scientists, including IT Experts: Highly trained experts are needed for advanced development operations reporting to visionary managers who respect your skills. Ph.D. or higher required. Must be good with a mop.

Customer Service: Critical position representing our company to our customers. Should be able to speak a few words of English, or be willing to learn ont he job. Must be highly motivated (i.e., willing to work in a sweatshop for peanuts). No knowledge of our products required, but it can be a plus.

Pointless, Inc. is actively looking for world-class employees who value excitement, challenges, and endless opportunities more than competitive salaries. We want out-of-the-box thinkers and mavericks who shatter old paradigms and break down barriers to success, especially those who fit into our Corporate culture, show proper corporate sensitivity, and respect the unwritten rules and priorities of Pointless. Could that be you? We currently have many open positions, probably thousands after our current out-placement enrichment effort is over, so please, send us your resume - and a $20 processing fee. Join us for a truly Pointless future!

PR Director/Spokesperson Position Filled:
Baghdad Bob Joins Pointless!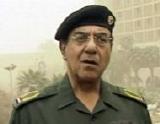 We are pleased to announce that an internationally recognized leader in public relations has signed a contract with Pointless, Inc. Muhammed Saeed al-Sahhaf, the fabled former Information Minister of Iraq, stood true to his duty and did his job with excellence in the face of extreme downsizing and the possibility of pension loss and even loss of pay altogether - a perfect fit for our firm! With Baghdad Bob on our side, we know our competitors' stomachs will be roasting in hell forever. We will slaughter them all! And we guarantee you: there are no competitors anywhere close to Pointless, Inc.!

Oh, and if you are hired but later outsourced, outplaced, rightsized, or transitionalized, don't worry! We have a state-of-the-art Employee Employment Transition Program where we prepare you for the next step in your career after your time with us. This includes intensive job training, with hands on experience and even language training, where you will master the nuances of speech required for your next job - you know, crucial phrases like "Paper or plastic?" or "Would you like fries with that?"

Many outsiders wonder just what it is that makes people so anxious to work at Pointless, Inc. We think part of the answer is our state-of-the-art employee advancement and career development programs, all driven by a world-class system based on the fabled University Model for Promotion.
The University Model: The Pointless Way
Famous universities success in getting only the very best in their tenured ranks, and what works for them works for us. In the University Model, six employees are locked in a room where they can do peer review and 360-degree feedback until their heads spin, actually resulting in 1080 feedback - a Pointless specialty. They employees work together until consensus is achieved, after which there are only five employees, one of whom now has tenure (or, in our case, a promotion). This system provides for career growth and needed downsizing all in one seemless process.

The intensive feedback process leaves the surviving employees strengthened and more self-aware, while also helping management to be more aware of their employees. This way, all employees know that we really care even about the little things in their lives - like how many minutes a day they spend on outside phone calls, or how many company pens have vanished from their cubicle this month, or where they go after hours. And we've been impressed with how cooperative employees are in sharing critical information about their peers. After all, smaller raises for peers means more money in the pot for those who rise to the top!

Some allege that our University Model, with its alleged back-stabbing and tribal warfare, might interfere with the vitality of teamwork at Pointless. Let me assure that teamwork is the thing we encourage most. Those not showing a good team spirit are castigated, demoted, or worse. Of course, team contributions are impossible to effectively measure and fairly reward, so we have to track individual contributions as the basis for merit pay increases and promotions -- after all, paychecks go to individuals, not teams! But don't think for a moment that this detracts from the robust spirit of interdependence and even co-dependence in the curse-functional teams of Pointless. We are all mutually interconnected in this journey on Planet Earth! (Or will be, once MIS gets our LAN up again.)

The great thing about our system is that it guarantees the rise of top performers - no, not just top, but STAR PERFORMERS who, like tenured professors, can never be fired. These are the men - pretty much all white men, to be exact - who stand out as symbols of excellence and diversity to beacon the rest of Corporate America to follow our path. Leadership: it's a lonely journey, but worth it.

Pointless, Inc. could be hiring any day now. Send in your resume now! Don't forget the $20 processing fee.
---
Curator: Jeff Lindsay (the alter ego of David J. Huffenpuff), Contact:
Last Updated: Feb. 20, 2004
URL: "http://www.jefflindsay.com/pointless/emp.shtml"