Lindsay's Pages Win Major Award
First to be named among the top 99.9% of all pages!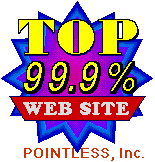 Here is the award notice I received on Aug. 31, 1995, from Pointless, Inc. - one of the most esteemed organizations of Cyberspace:
Date: Aug. 31, 1995
Sender: [email protected]
Dear Jeff:
It is with great pleasure that I inform you that your Web site, the Cracked Planet of Jeff Lindsay, has been selected as among the Top 99.9% of all Web sites. Your site truly is one in a thousand. You see, our dedicated and highly discerning staff has been surveying numerous Web sites over the few past months. Of the first one thousand sites surveyed, YOURS was one of them. Therefore, not only is your site the recipient of the Top 99.9% award, but your site was the FIRST to be so honored. You may display the Top 99.9% gif on your pages with pride.
On behalf of all of us at Pointless, Inc., we congratulate you on qualifying for this Pointless honor.
David J. Osborne, President
Pointless, Inc.


Beam back to Jeff Lindsay's planet
Index to the cracked pages of Jeff Lindsay
---
Note: I've received e-mail from concerned recipients of "Top 5% Web Site" awards, asking if their award was a hoax. I doubt it. It is a true honor to receive a "Top 5%" award - only one-third of all sites ever receive such an honor. And for those of you suffering from innumeracy, being in the top 99.9% is nothing to brag about - but it does impress a lot of people! It just means that at least one in a thousand sites is WORSE, on the average. :)
---
---
Curator: Jeff Lindsay Contact:
Last Updated: Oct. 3, 2001
URL: "http://www.jefflindsay.com/Award.shtml"