Paper and paper products offer a world of possibilities for magical effects. Of course, card tricks are a classic example of magic with paper, but there are many more possibilities, enough for an entire show or two. Below are some of my (
Jeff Lindsay
's) favorites. I'm just an amateur, but I sure have fun with this hobby, and the paper theme has fit in well with my professional work at places like
Kimberly-Clark Corporation
. Be sure to visit
my main magic page
as well. If you're a magician and would like to know details of any of the tricks I discuss below, please say something to convince me that you are genuine (the three secret code words of David Copperfield, for example), and I'll by happy to share what I've got.
---
New Freebie! The Stunning Dragon Illusion
from Grand-Illusions.com
An impressive three-dimensional optical illusion that you make out of paper is the
Dragon Optical Illusion
from one of my favorite sites for optical illusions,
Grand-Illusions.com
. Check out the video clip showing how this works, and be sure to
download your own page (a PDF file)
to cut out and assemble. Eerie! And it's a form of paper magic.
The effect is a 3-D dragon made from paper that appears to turns it head or eyes to follow you as you move around. Seems impossible, but it exploits the way our brain processes information to create the optical illusion.
TIP: The PDF page is designed for an A10 sheet of paper, which most Americans don't use. Open the PDF file, copy the image, and paste it into Microsoft Word (or an image editor). Then print out a black and white version to use for the directions. Now crop and resize the image so the dragon figure itself occupies a full standard sheet of paper (within the margins of your printer), and print that in color. Now cut and fold the color image, while using the black-and-white printout to guide the folding, since it has instructions on it that would otherwise be severed during the cutting process. For best results, once your dragon is assembled, put it under a glass bell or in a glass box, and make sure the lighting works to highlight the illusion. Have fun!
Resource: Paper Dragon Magic Illusion
Another Freebie! Stunning Illusion Disclosed:
The Sheet From the Fifth Dimension
Genuine magicians never disclose tricks gratuitously (it's o.k. if we charge money, though!), but what I'm about to disclose isn't really a trick - it's more of an optical illusion. Just to be safe, though, you'll owe me $5 after reading what's below :). There is an interesting mindbender you can achieve with a simple sheet of paper. The result is this "impossible" configuration of a once flat sheet of paper: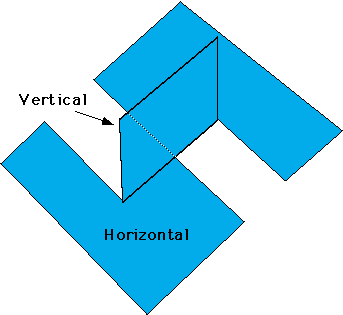 The portion of the sheet sticking up from the horizontal plane appears to be a combination of two smaller rectangles cut out from opposite sides of the sheet. In 3-D, it really looks impossible. If you've ever been kidnapped by aliens, you can offer it as proof that you were once in a higher dimension. You might even be a guest on Geraldo with this.
Fortunately, you don't have to contact extraterrestrials or get crop circles burned in your lawn to make one of these. Just take a regular sheet of paper and make three cuts, each half as long as the width of the paper, as shown here: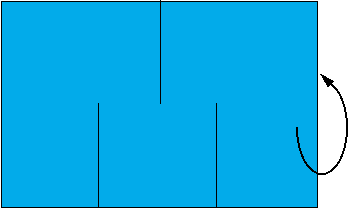 Now hold the sheet with one hand one each end of the sheet (hold the narrower ends), and rotate one end 180 degrees, as shown. The result will be the impossible "Sheet From the Fifth Dimension." To prevent someone from twisting the sheet back to its original form, thus discovering the "trick" and possibly causing you serious emotional harm, you may wish to tape the sheet down onto the surface of a table or some other object, offering it as a conversation piece. "Did I ever tell you about my abduction..."
Many variations are possible. If you are clever, you can use a computer to print portions of an image or design (or even a text document) on both sides of the sheet in such a way that when you cut and twist it, all the image portions are on the exposed top and the bottom side of the sheet is blank, as if you really did cut out two rectangles and magically merge them into the single vertical piece in the middle. An easy way to see how to do this is to draw an image by hand on the twisted sheet, then untwist it and see where the parts must lie on the two sides to create the effect you want. Then use your favorite graphics program to design something similar to print on both sides of a sheet of paper. Worth the effort? Maybe not.
One final tip: if you do make claims about aliens and the Fifth Dimension, some intellectuals might ask why advanced extraterrestrials would be using 8.5 by 11 inch photocopy paper (or whatever specific sheet you are using). If you're serious about making it to Geraldo, I suggest that you do the following:
use paper without a watermark
use paper with an odd tint like Spring Fungus Green #3
cut the paper to an odd, alien-like size (8.5 by 14 inches might work)
make a rubber stamp to print a fake alien watermark on the sheet, using a little mineral oil or some other chemical instead of ink to increase the translucency of the printed area (an image of Elvis is especially recommended).
Good luck! And now, here a list of some real tricks that can be done with paper.
---
My Favorite Magic Effects with Paper
WARNING:
Any of these, when properly performed, can verge on the miraculous. In my clumsy hands, they sometimes verge on the ridiculous or obvious - but not always. (Magicians - I'd be happy to discuss these in detail with you and share suggestions. I've had a few past disasters that have generated useful tips on a couple of these.)
Anderson's Torn and Restored Newspaper

In this effect, an 8-page section of newspaper is shown to the audience, page by page. It is ripped up, always in plain sight, then simply shaken open into the original newspaper again. All 8 pages are shown one-by-one. Nothing up the sleeves: can be done naked, if necessary.

When I do this, I usually talk about the ecological problems associated with recycling: a lot of water has to be used and a lot of sludge is generated. But if we could recycle paper without water, keeping the paper dry at all times, think what a boon that would be. Then I demonstrate the process of dry pulping (shredding the paper) and water-less papermaking. The problem is ink removal: all the original ink stays with the fibers, making the regenerated newsprint look just like the original.

The Floating Kleenex® Tissue

Only works with Kimberly-Clark products, of course! I take a sheet of Kleenex® brand tissue (remember, it's "Kleenex® tissue" - not just "Kleenex®" - because "Kleenex®" is a brand name, not a noun!) and explain that it is so soft and fluffy that it almost feels like it floats on your fingertips. I wad up a piece and make it float. It runs rings around the competition, I explain, as I pass a solid metal ring around the tissue in several ways. A fun effect. (Yo, magicians: can you unscramble the letters IRT? I have a couple novel ring-handling effects besides what you'll learn in the standard video #1. Ask me for details, offering evidence that you know what you're asking about!)

Pencil Through Bill

That's a dollar bill, not your friend Bill. I have two versions that are both effective. One is Misled, the effect that Copperfield used on one of his TV specials, which can use a borrowed bill. Very visual, good for a small group. The other uses a novel technique better suited for close-up. A piece of paper is folded over the bend in a folded bill. The pencil is placed into the middle of the folded bill and pushed through the bill and through the backing paper, puncturing it. It can be shown from both sides, making it topologically obvious that the pencil must be puncturing the bill. Yet when the pencil is removed, there is no visible damage to the bill.

The Ad I Couldn't Cut Enough

(Magicians: it's Clippo.) I tell a story about looking for my first job, placing a huge ad listing all my marvelous qualities, costing $600 a day. (I show an entire column cut from the classified ads section of a newspaper.) No calls come in. Decide to cut some exaggerations out - snipping text right out of the middle. The column is still intact, not cut in two. This happens over and over. The cost comes down as the ad gets shorter (always cutting from the middle); still no calls. Suspect I'm dealing with a crooked newspaper (get a crooked column). Finally give up and resort to standing at an intersection with a sign: "Chemical Engineer: Will Design Reactors for Money or Food."

Highly Absorbent Huggies Diapers

A version of the old milk pitcher effect, but using a pitcher of grape juice to simulate the colored liquids that are used in commercials and in actual product testing to demonstrate rapid uptake of fluid. The fluid is poured into the diaper - which remains remarkably dry.

(Sucker) Torn and Restored Kleenex® Tissue

I teach the audience how to do it. A trick revealed? Yes, but .... One of my favorites from Henry Hay's Amateur Magician's Handbook.

Silk Threads in Currency

Hands empty, a borrowed bill is displayed and rolled into a funnel. US currency is made with small amounts of colored fibers, I explain, to make counterfeiting more difficult. To help you see this, I'll take out the blue fibers to make them more visible. I reach into the funnel - hands still empty - and pull out a blue silk. Bill and silk are freely displayed. The bill can be rolled again, the silk pushed into it, then unrolled. The silk is gone - and the blue threads are still there in the bill (so I have not defaced US currency after all) which is handed back to its owner.

The Paper Technology Book Test

I show a copy of a Smook's famous pulp and paper handbook. It can be examined. I note that I wanted to make a prediction about the word or phrase that would be selected from this handbook, but I couldn't do better than narrow it down to a top ten list. I show a stack of ten thick paper cards (blotting paper is my favorite for this) on which a word or phrase has been written on each card, several of which are shown. These cards are lined up, backs to the audience, in plain view, one through ten. A random audience member is selected and asked to think of a number between 1 and 10. This really is random! The card number he or she selects is removed and put in their hands. I ask someone to stop me as I thumb through the pages. The stopping place - fairly selected! - is marked with an enveloped (containing a letter) to prevent trickery (hah! nothing prevents it these days). With several witnesses, the words on the top or bottom of the selected page are noted and read. Voila - they match the card selected by the audience member. I note that if a slightly different card number had been selected, an error would have resulted, as I turn over the originally adjacent cards to show they have different words than those selected. The letter in the envelope says "Forget the top ten - I think you'll pick ****", giving again the correct selection. It's a nice effect, combining two good subtleties (I think both can be found in Mark Wilson's handbook of magic).

The E-mailed Dollar Bill

Optional phase 1: Several dollar bills are borrowed. Serial numbers are recorded. Bills are shuffled and placed in a paper bag. At command, a blindfolded performer can remove any selected serial number from the opaque bag using "an incredible sense of touch." Bills are removed as called for, one by one, and serial numbers are verified.

Phase 2: Someone randomly selects one of the bills borrowed from the audience (or a new bill is borrowed), carefully noting its serial number. While that bill is held in plain site by volunteer, the magician shows an empty envelope, seals it, and hangs it from a wire where it is in plain sight. The selected bill is now given to the magician, serial number is again verified, and the bill is vanished (can be ravenized, vanished in a card frame, or even burned). The magician claims that it is converted to electrons and electronically mailed, sent to the wire and into the envelope. The magician does not approach the envelope, but has a randomly selected person carefully open the envelope and pull out the bill that is really inside. No confederates are used anywhere in this. The serial number is compared to the bill that was vanished - and it matches. This effect combines some previously published ideas, but it is still largely original. It is one of the few tricks I have ever performed that have caused people to lose sleep thinking about it.

The Rigid Roll

This is a commercial effect using a secret gimmick. A roll of toilet paper is displayed in front of the performer. I talk about test methods that various researchers use to assess the complex attribute of "stiffness," and explain that I have invented a useful test method called the Lindsay Tissue Stiffness Test. To perform the test, a roll of toilet paper from an evil competitor is held horizontally and unrolled until the tissue makes contact with the floor. Then, if the paper is stiff, I can let go with both hands and still have the roll suspended in front of me, apparently supported by the 4-foot length of "stiff" paper making contact with the floor. I wave my hands around and then roll up the paper and hand the roll out for examination. Fun! Available at most dealers or on the Internet. (I ordered mine from Diamond Magic - think it was $35.)

Bill in Lemon

A classic effect with many variations. I use one that takes note of the serial number of the borrowed bill, as well as tearing a corner from that bill. When the bill vanishes and is found inside a lemon or orange, the serial number is correct and the torn corner matches exactly the missing torn corner of the bill. Difficult and time-consuming (to prepare), but fun. I would not do this effect and the e-mailed dollar bill trick in the same show - the replicate focus on serial numbers and bills would seem redundant to me.

Business Card Warp

Card Warp, as taught by Michael Ammar in his Easy Card Magic video series, is one of the greatest and most visual card effects ever. I prefer doing it with business cards that have been colored or heavily printed on one side. A lengthwise-folded card with the printed side facing out appears to become warped with the printed side now on the inside as it passes through the folded over portion of another card (folded end to end, not lengthwise). This can be repeated several times under close scrutiny and then the two halves of the warped card are torn apart slowly and everything is handed to the spectators for inspection - with nothing left in the hands or anywhere else. Wonderful.
---
Other Fun Things with Paper
A remarkably easy and detailed source of information on how to make many dozens of beautiful origami structures. One of the best websites on origami. And free!
Marvelous examples of what can be done with paper - incredibly sophisticated. Mr. Lang has also developed computer programs for designing origami features and understanding the science of origami. Among the practical applications of Mr. Lang's work have been improved tools for simulating the folding and unfolding of air bags for automobiles.
Over 500 origami examples and many other resources on origami. "Know when to fold" is their motto.

Origami as Gifts - a list of origami resources, courtesy of the Northwest Homeschool Group in Kirkland, WA.

A cool site, with pictures of origami art (an F-14 Tomcat, for example - one of the favorite works of the ancient masters) and lots of information.
A site from Japan with useful information for origami learners.
A fascinating site by Paul Haberli within the Grafica Obscura site. Lots of information and demonstrations of beauty achieved by folding paper. Also see Dr. David Huffman's paper folding page.

Faces Made from Toilet Paper Cores - does life get any better than this?

A great site showing how to make complex paper structures (polyhedra).
---
Enough! Take me out of here:
Jeff Lindsay's Magic Page

Beam to Jeff Lindsay's Cracked Planet
Jeff Lindsay's Paper Resources)
Index to the Cracked Planet of Jeff Lindsay
---