The Cracked Planet of Jeff Lindsay
Conquering Innovation Fatigue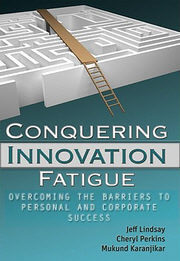 Buy now at Amazon
Conquering Innovation Fatigue by Jeffrey Dean Lindsay, Cheryl Perkins, and Mukund Karanjikar is published by John Wiley &amp Sons (2009).
After years of working with innovators and pursuing innovation myself, I felt a need to share a different perspective on the challenges to innovation success. This perspective involves the personal side of innovation, exploring the barriers–including nine major "innovation fatigue factors"–that individual innovators face. We show how to recognize and overcome them. The book considers three different levels of fatigue factors: those involving problems at the individual level (including innovators and those they turn to or work with), at the organizational or corporate level (strategy, culture, incentives, and decision making) and also the external level that includes national policies, regulations, and taxation, with special consideration of university-industry relationships, where especially severe lost opportunity occurs.
Preparing the book Conquering Innovation Fatigue was a rewarding process. This book draws upon many experiences and interviews that I have had, along with those of my co-authors. Our book is aimed at helping anyone who cares about innovation to understand innovation at a personal level.
So who's it for? Anyone who seeks to innovate, drive innovation, or influence innovation. Also, it's the perfect gift for Father's Day, Christmas, birthdays, bar mitzvahs, divorces, fans of patents (even chemical patents), you name it. For more information, see the supporting blog, Innovation Fatigue.
Abbreviated Professional Bio
In Shanghai, China, I serve as Head of Intellectual Property for a growing Asian company, APP-China (Asia Pulp and Paper). My previous dream job was as an innovation and IP consultant at Innovationedge, where I got to work with some of the world's largest companies as well as small startups, lone inventors, and everything in between. I especially loved working with bright, innovative people who were out to deliver breakthrough products and services to the world. Experiences ranged from helping world-class teams develop IP strategy for new products to helping new technologies get connected with partners for licensing and commercialization. I had four years of fun and adventure at Innovationedge and loved it. Great firm! Will always be grateful for the privilege I had of working there and learning from such good people.
Before that, I was Corporate Patent Strategist at Kimberly-Clark Corporation, a terrific consumer products company. I was at K-C for nearly 14 years in the research community there. My work there included working with about 20 IP committees around the company to help guide our IP strategy and tactics; driving IP generation to cope with the threats and opportunities of disruptive innovation (topics like RFID, emerging IT tools, virtual reality, etc.); guiding design-around activities and applying other tools to strengthen our patents; and leading an aggressive effort to use defensive publications as an important tool in our cost-effective IP strategy. I also founded and led a community of practice called the Intellectual Property Chapter. I had 13 great years with K-C. Then, when our Chief Innovation Officer and Senior Vice President, Cheryl Perkins, left to form a start-up company centered around innovation, I would soon recognize an opportunity too exciting to ignore. In 2007 I joined as Director of Solution Development and had four life-changing years there before China called.
I'm a registered US Patent Agent with a Ph.D. in Chemical Engineering from Brigham Young University. After BYU I was an Assistant Professor and then Associate Professor at the Institute of Paper Science and Technology (originally the Institute of Paper Chemistry). I really loved the academic life and the bright graduate students during my seven years at IPST.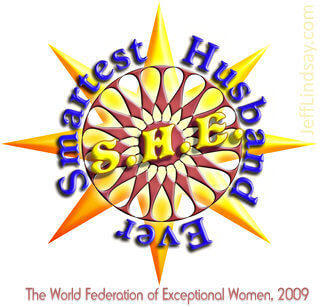 While I've won a few awards during my life, the most important one by far is the "Smartest Husband Ever" (S.H.E.) award granted by the World Federation of Exceptional Women, a monumental honor based on my incredibly wise selection of a spouse. With all due humility, I can only say WOW! When I married Kendra Larson (now Kendra Lindsay), I felt pretty smart, it's true, but it would take years before I fully appreciated what a stroke of genius that was. To be honest, I didn't fully foresee that my incredible young wife would continue blossoming into the breath-taking woman that she is today. I didn't guess that she would organize an entire community and tackle massive barriers to create a successful charter school in Appleton, Wisconsin based on academic excellence (now the Classical School, a public school with over 450 students K-8). I didn't know what a terrific mother she would be, raising four sons whom she would imbue with a passion for excellence and love for life and learning. And how could I possibly have guessed that after four children and almost 30 years of marriage, she would keep getting even more beautiful? The world may call me a genius, but I just think of myself as incredibly lucky. Nevertheless, I'm very proud to be the recipient of the S.H.E. Award. Many thanks to the terrific people of the World Federation of Exceptional Women, and thanks also for allowing me to be the Awards Chairperson for that esteemed organization.
Photography and Other Hobbies
I've got many collections of photos throughout this site, such as the recent "Memories of Winter" gallery (winter scenes from the Fox Valley, Wisconsin, 2008). They are copyright 2003-2008 Jeff Lindsay. Please don't use them without permission. Here are a few recent thumbnails, with links to various pages of photos:
But what is JeffLindsay.com about?
This eclectic little site contains my collection of writings on various topics over the last decade or so. It sprouts off in dozens of directions – photography, education, religion, RFID, investment ideas, politics, and my (former) town of Appleton, Wisconsin. See the partial site map.
This work began in 1994 as a repository for satire and spoofs as well as serious writings on topics I care about, especially some of my religious writings. I've also added samples from my hobby of photography. My oddball sense of humor (a.k.a. mental illness in denial) is likely to grate some people the wrong way. Sorry about that.
In Feb. 2014 I began using WordPress and the Avada theme to manage some of the material on this site. Consistent with the shifting continents motif of the Cracked Planet, you'll find part of the site is run by WordPress and a lot more is in hand-coded static pages. Yeah, I know, it's a mess. It's cracked and bizarre terrain, always shifting and trembling, but it's home. My old home page is still available if you prefer that.
Whether it's WordPress or hand coding, everything here was produced using 100% free-range Webmasters. Plus only organic electrons and photons are used with this site. Yes, JeffLindsay.com is organic and completely free of preservatives, meaning that some things are stale, out of date, and full of bugs. If something does look broken, please let me know. It's getting a bit unwieldy, and though I'm overwhelmed with email, I try to listen and respond. Sometimes.
From where I perch on the great tree of life, I see a lot of things that I need to squawk about. Things that I think will help you, things you might enjoy, or things that might simply puzzle you. I love to write, yes, I even blog a bit.
What, another blogger? Yes, sorry, I'm one of those people. I've got my "mixed report" blog, Shake Well Before Serving, here on this site. Over at Mormanity.blogspot.com is my Mormanity blog where I share my views on religion and social issues. The latter is my most developed blogging effort. I also blog occasionally at InnovationFatigue.com. Plus I have a blog about Appleton, Wisconsin, that is somewhat on hold as I'm in China for a little while. But I'll be back and still add information.
Some of the issues that I take on in various static pages at JeffLindsay.com include education, religion, social issues, politics, trends in Corporate America, and the most important issue of all, food (in the form of my restaurant reviews for my fabulous little former town, Appleton, Wisconsin). Will I now be reviewing Shanghai food? Whoa, it's so great–where to begin? Email me if you're coming here and I'll share some tips. Some of the best food in the world is here in Shanghai. And so affordable!
Regarding education, I hope parents will demand excellence and refuse fads. If kids aren't learning, they probably aren't being taught–at least not with proven methods. One fad in particular that I take on here is Block Scheduling, where I have provided resources used by many parents, teachers, and even students in resisting a popular but potentially harmful restructuring of schedules in schools. Sounds like an esoteric issue to most people, but it's a hot topic in education. The controversy illustrates quite a lot about some of the problems we face in public schools.
Now here's a topic that really spooks people. I should warn you that a portion of this site deals with religion. "Mormon? No, please, tell me you're anything but a Mormon!" – to quote one woman I met in Switzerland. Mormons? Latter-day Saints? Yes, I'm an active member of The Church of Jesus Christ of Latter-day Saints (see LDS.org) and have written a lot about the Church and its beliefs. I take on a lot of common questions and attacks in the section I call Mormon Answers (LDS FAQ). While I answer common questions about my religion and defend my faith, I am not saying that the Church is perfect or has a monopoly on truth. I respect many religions and recognize that we can learn much from others. I also recognize that the Church has plenty of pesky mortals in it, and that means errors and embarrassments from time to time. But I do think we have some amazing things that the world should know about, especially The Book of Mormon: Another Testament of Jesus Christ. Got one? It's a major reason why I am proud to be a member of this Church. My experience with that book has greatly added to my conviction that Jesus Christ is real, that God lives, and that there is a way for men and women to find joy, peace, and meaning in this life and beyond. Oops, there I go, preaching again….