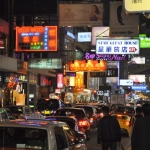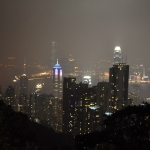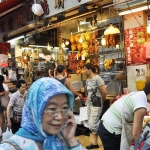 Foreigners living in China often may wish to visit Hong Kong also. Typically they will fly into the Hong Kong airport from China. However, you can save money by flying to Shenzhen and then crossing the border and taking a train into China. Flights to Shenzhen avoid international taxes and can sometimes be 30% or more less expensive. Staying in a hotel near the border in Shenzhen can also be much less expensive than Hong Kong. We've often stayed at the Shenzhen Best Western Felicity Hotel, which is just across the street from the Lu Huo border crossing, said to be the world's busiest on-land border crossing. They open at 6:30 AM and continue until midnight, I think (check first if it matters!), and sometimes the lines can be huge. During holidays, weekends, and rush hour, be prepared to take an hour or more to cross the border, though right at 6:30 AM isn't bad usually. Once across, you can buy an Octopus card (good for trains, subways, taxis, and convenience stores) and then take the train into Hong Kong.
If you fly directly to Hong Kong, there is a chance that you will be asked to prove that you have sufficient funds for the trip. Once, for example, a friend of ours from Mongolia went to the airport to fly to Hong Kong, and was told by the airline (Spring Air) that she needed to show them 5,000 RMB cash before they could give her the ticket she had already paid for. Apparently this was a requirement of the Hong Kong immigration authorities. I haven't heard of this before and haven't been asked to show my cash when I've gone, but be aware that this could happen. I think having a credit card ought to do the trick. It may be an issue for Mongolian citizens in particular or for other developing nations, where perhaps Hong Kong is worried that people from poorer nations might get into financial trouble once inside their border. Might be good to have proof of a return ticket also and evidence of a hotel that has been booked or prepaid.
Naturally, make sure your visa permits you to enter Hong Kong and come back safely to China. Some people plan on going there without realizing that the China visa they have is for one entry only, and once they go out, they can't get back in right away. Your visa should be good for one month beyond your stay–don't take risks as your visa is about to expire. Some details are given here. That page may not be official, though.
Also be aware that Hong Kong has a completely different electrical outlet (a three-pronged UK-style outlet) than China or the U.S., so you'll need an adapter. Also, be aware that they drive on the left side of the road in Hong Kong, unlike they do in China, so be very careful in crossing the street or driving.
Hong Kong is a clean, safe, and beautiful place with many great places to visit. We especially enjoy the Tai-O Fishing Village and the Big Buddha (Tian Tan Buddha) on the mountain and the cable car ride. It's more expensive than China, so be prepared, but enjoy!