A friend staying with us today needed to buy a bus ticket for tomorrow to get back to Rugao, a town near Nantong. He wanted to go to a bus station to buy the ticket, but that would have used up a big part of his day. Instead I figured there must be a way to do that online. I asked a Chinese friend and was informed that Ctrip (携程) is a good way to do that. I tried my Ctrip app (now just Trip, tied to Trip.com), but this English only app does not show bus information. I lauched Ctrip.com on my iPhone and changed the language setting to Chinese, and still had nothing about buses. I went to my computer and opened Ctrip.com in English, and still had nothing. But when I used the Chinese language version of the website, the bus information was plainly available as the menu item "汽车票" (vehicle tickets), which takes you to http://bus.ctrip.com/.
You then enter the departure site, destination, and date (Chinese characters are needed for the locations), click on the orange button, and you'll see a list of bus trips available for your date.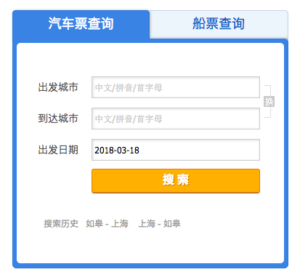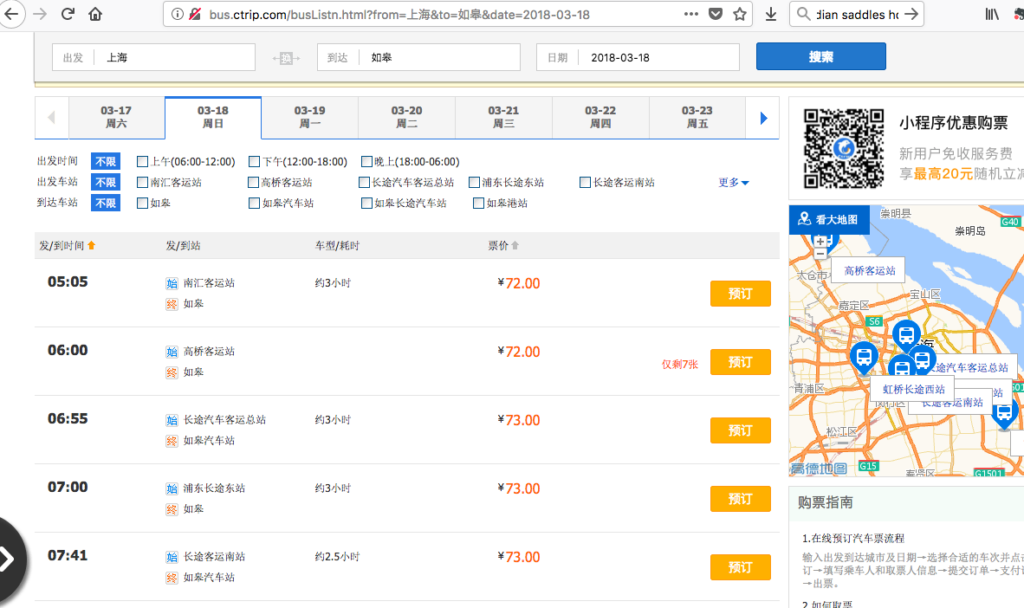 Over on the right, the orange buttons take you to a payment page. You'll need to enter your full name as on your passport, passport number (select 护照 = passport), and enter the same information in the second area for the person who will pick up the ticket (typically you), along with the phone number (手机). If the ticket is for someone without a phone, enter the phone of someone who can be in touch with the person to verify the ticket. I entered my phone for this traveler without a Chinese phone number (but he has WeChat) and will let you know if this fails tomorrow. Fingers crossed.
Then click on the big orange button below to pay using WeChat. You'll get a 2D code you can scan to bring up WeChat payment. Pay for the ticket and the person can then pick it up at the bus station. Make sure you give them the images of the ticket info, receipt, etc.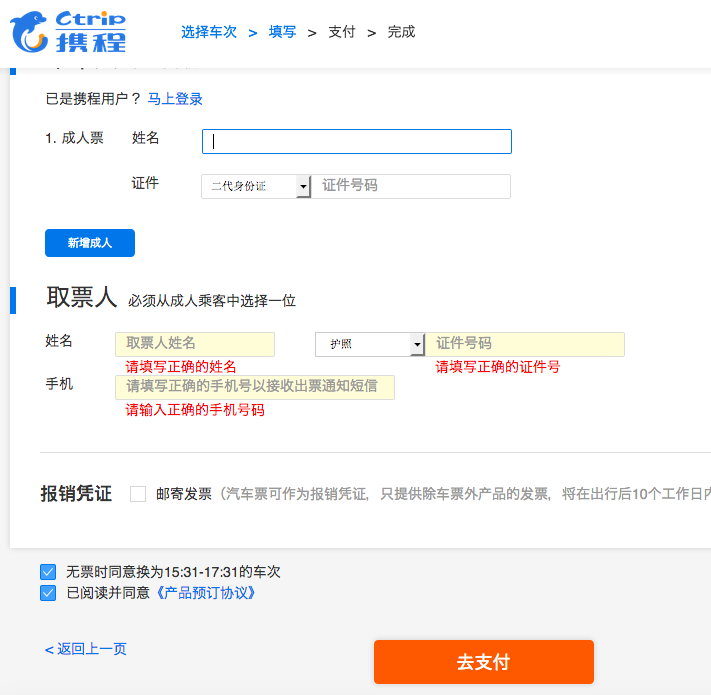 In my case, I sent him screenshots of the payment confirmation, then clicked on ticket information to get the ticket sales number (取票好) and order number (取票订单号) in another screen shot. If all goes well, my friend will be on a bus tomorrow to Rugao. If not, it's a long walk. I'll let you know.
If you know of other ways to order long-distance bus tickets online, let me know. This seemed pretty easy and the fee was low (3 RMB for a 73 RMB ticket).