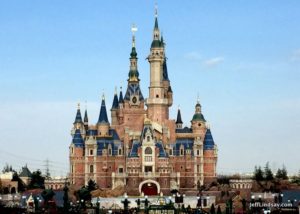 After a frustrating but still quite fun first experience at Shanghai Disney during their pre-opening test days, I was worried that Disney lines in Shanghai would always be too long for most customers. I am happy to report that our second experience on a beautiful winter Saturday, December 10, was much better. This time was clearly my best Disney experience ever. I've been to Disney resorts in Anaheim and Orlando more than once for each, and while Shanghai is smaller, this was the most fun I've had.
Why was my visit on Dec. 10, 2016 so much better than my visit earlier this year? First, lines were much better than before, partly because there were more rides open and perhaps because the thrill of a new Disney resort had worn off, so crowds, while healthy, were not overwhelming. Many good rides had lines only 30 minutes long. One hour was the longest we waited for anything all day.
For peak times and peak rides, this time we also had the benefit of a good mix of fast passes that gave us rapid access. Plus this time we used the outstanding Shanghai Disney app that shows wait times for rides to help with planning and provides a live map to show you where you are and where to go. Also in our favor, essentially all the rides were operating whereas many were closed during the pre-opening period, so there were more events to spread out the crowds.
Another plus was that we didn't lose over an hour wading fighting chaos as the giant dining hall near Tron that still hadn't figured out how to manage their food system, but instead went to better places like Barbossa and Remi's Patisserie to eat much faster and with better quality food. Further, this time we got an earlier start, arriving right at 9:00 AM when the resort opens, and we also didn't have to leave early to catch a dinner event as we did our first time. Overall, a longer, more efficient, and much more fun day. Bottom line: use the app, use fast passes, arrive early, and visit your top picks early in the day when lines are short. They may also be short after 6 PM when lots of Shanghai folks focus on eating.
On our first visit, we tried to do the Tron ride but were thwarted by wait times of over 4 hours (!). Even when kind employees there had pity on us and helped us get fast passes, we were thwarted again by a mechanical problem that shut the ride down right as we entered. That mechanical problem turned out to be a new employee leaving a door open that triggered a safety alarm that shut down the ride until engineers could pinpoint the problem. No mechanical failure, just a silly human error. Today Tron was flawless and we rode it 3 times! We did it twice in a row in the morning, and later in the evening around 7 pm the wait time was low.
Favorite rides were Tron, Soaring, and Pirates, and we even liked the interactive fun of Buzz Lightyear. Wonderful, beautiful resort. Thank you, Disney!