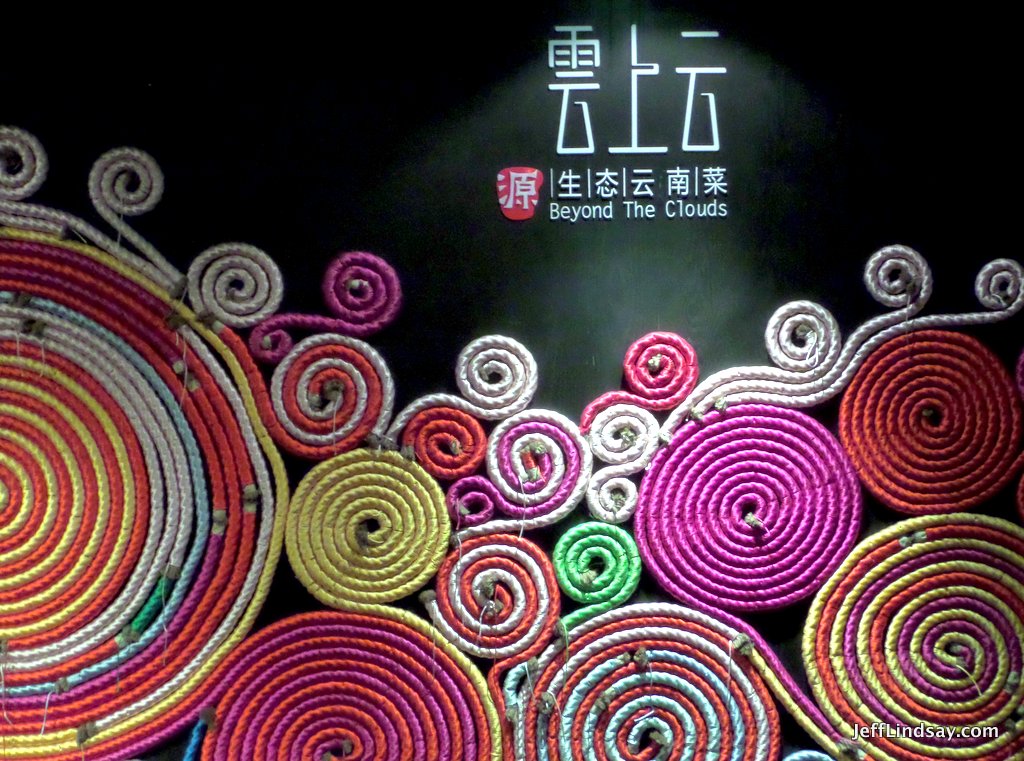 One of Shanghai's hidden culinary gems is overlooked by thousands of tourists everyday in one of Shanghai's most popular spots, the beginning of the East Nanjing pedestrian street close to the Bund where East Nanjing intersects Henan Road. There, hidden away on the 5th floor of the building that houses the bustling Forever 21 store, is a delightful Yunnan restaurant that most people don't even know is there. And that's a good thing, because lines would be way too long if they knew about Beyond the Clouds.  I've been there twice and didn't have to wait to be seated, which is how I like it. Beyond the Clouds has pleasant, somewhat mysterious decor with excellent food at surprisingly low prices. Definitely worth a visit for some of the most interesting flavors in China.
The best deal are their set meals for lunch. Just two choices: Set Meal A feeds two people for 88 RMB, and Set Meal B feeds 4 people for 138 RMB. I took a CEO there recently for lunch and we had Set Meal A, which had more food than we could eat and was quite good. The yellow curry was perfect. The hongshao pork and bean curd skins were excellent. The greens were good and the pickled radishes were very pleasant. Soup was OK. I enjoyed the meal, but was surprised to hear my friend describe it as the best Chinese food he's had in his time in China (total of a couple of months or so, I think). Well, the food is decent and prices are great.
The set meals are only available during weekdays. I went there today with my wife and we loved the stuffed pineapple rice dish, with a nice mix of sweet black rice and pineapple in a pineapple shell. Digging out the cooked pineapple was fun. We also had an interesting crepe wrapped around mushrooms and other ingredients that was spicy and strongly flavored. I loved it, though the flavors were a bit strong for my wife. Service was good. Definitely a place I'll be back to for larger meals to further explore the unusual cuisine of Yunnan province.
Many say this is an imitation of Lost Heaven, and that may be fair. But it's an imitation that may taste better and be more affordable than the original. Keep those improved imitations coming!
You can get to the restaurant by entering Forever 21 and going up the elevators tot he 5th floor. There are also little alleys behind and to the side of that building that take you to a mysterious elevator to ascend to the 5th floor. Give it  try!