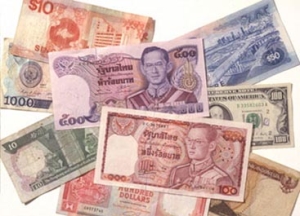 An American friend of mine visiting Shanghai was shopping at Yu Yuan (Yu Gardens) and bought something from a pushy salesman on the street. He paid with a 100 RMB bill and was given several bills as change. What he didn't notice was that the  bills he received was worthless currency from some foreign nation (he thought it looked like Arabic but I'm guessing it was from Thailand). So instead of paying 20 RMB, he paid 100. Rip off.
Make sure you know what real Chinese currency looks like so people won't had you bogus currency for change. Look, verify, and count. Don't be so trusting and gullible, like many of us Americans are.
Other Basic Scams at Tourist Attractions 
The day before my friend went to Yu Yuan, I warned him about some of the scams he might encountered. I told him that anytime someone approaches you there or at other major tourist sites and speaks English to you, no matter how friendly and attractive they may be, they are probably sales people whose job is to separate you from your money. I warned him that there are people who try to engage foreign visitors by asking them to take their photos, and then some sort of scam is likely to follow. Just say no politely and walk away, I said. I also warned him of the ever-popular and often successful tea ceremony scam, where gullible foreigners are lured by attractive English speaking girls to join them at a traditional tea ceremony for a cup of tea. In this scam, after a few minutes of tea, a gargantuan bill is presented, accompanied with solid Chinese muscle to enforce payment for what was allegedly a rare and exotic high-priced tea. One cup might cost you hundreds of dollars. Never fall for that, I warned. Stay away. Beware. Don't go inside.
The next day at Yu Yuan, my friend ran into a couple of cute girls who spoke English and asked if he could take their picture. Being friendly and always wanting to help, this young man took the photos and chatted with them. "We are tourists from Beijing," they said, "and have been to all these major Shanghai attractions on our tourist map except for one, a traditional tea ceremony right around the corner. It's a great way to experience Chinese culture. Would you like to join us for some tea?"
"Well, I guess I can just take a look," he said, and followed them into a tea house. But eventually, he later told me, my warnings began to enter his thinking–finally–and he realized he had better check a menu and see what the prices were before he did anything. He asked for a menu and saw that there was a 30 RMB service fee posted in addition to some high prices for the tea. But now he felt pressure to not just walk away, though he explained he didn't drink tea and needed to leave, so how much did he need to pay for just taking a look as he had done? The waitress was puzzled and went to check with the owner, and came back saying that he needed to pay 200 RMB. That's for absolutely nothing–what crooks. He said no way and gave them 30 RMB as I recall and left, but they were angry. I think he was lucky the muscle hadn't shown up yet.  The result could have been much worse.
When you see young people at Yu Yuan waiting with cameras at busy corners or on busy streets, and out of all the thousands of passers-by, they choose you, the stand-out foreigner, to get someone to take their picture, know that the last thing they want is your photographic assistance. It's a scam. Feel free to take their photo on your camera so you can let others know who these scammers are, but don't let them lure you anywhere. They don't want photos, just your cash. Lots of it. And they will use deception and force if you give them the opportunity.