Golden Jaguar is a well-known chain offering a large buffet. Unfortunately, after the disturbingly poor experience a large group of us encountered there recently, I won't be going back. A group of about 200 or so people made reservations for a special dinner there. Some who had been to Golden Jaguar before were really looking forward to the buffet with numerous tasty items. We paid 200 RMB per person, apparently a little more than the normal buffet rate in the main area on the first floor. They put our large group on the sixth floor to give us a big room of our own, pretty much the whole floor, but they wouldn't let us go down to the first floor to access the good stuff. Instead, they brought in a few large bins of very ordinary, uninteresting food. It was actually the buffet in China that I can remember where I left hungry because there was so little worth eating, and so little of what looked good.
One girl at our table looked really depressed. I asked what was wrong and found out that she had been to the main buffet on the first floor with numerous delicious items and had really been looking forward to a special evening here, but now was gravely disappointed with the low-quality food being brought to us. I asked the floor manager if she could be allowed to go down to the first floor and get some real food. He gave us some story about how we had a special rate for the room and this did not include access to the first floor. Sigh.
The food they brought came in a few large bins that were often empty. It was usually cold, with no devices to keep anything warm. What surprised me was how inept their system was for providing the food. For over 200 people, the food was presented on a single line of tables and they only allowed people to queue up in a single line on one side. This resulted in a ridiculously slow line, complicated by the fact that the bins they brought were too small and quickly depleted, at which point people in the line often just stood and waited until a refill eventually came, making it all the more insufferable.
The fish was cheap, unpalatable sardines or saury. The chicken was cold, boring, plain whole chicken whacked into boney pieces. There was flavorless beef and broccoli, cold. The crab was perhaps the highlight for appearance but there was so little edible meat that it did little to abate hunger. Some fried rice. A salad that was often empty. Tasteless cheap little fluffy cake pastries for desert. Lukewarm Sprite or Coke as the only beverages. There was a tray of smoked salmon, enough to serve about 10 or 12 people per refill, that was usually empty. Some cold shrimp (tender, though) and corn was provided as a salad. That dish was OK, but overall it was something of a miserable meal, given the fact that we  knew we were being poorly treated, even ripped off, and that for the same price or less we should have been able to eat a great meal below. Sigh.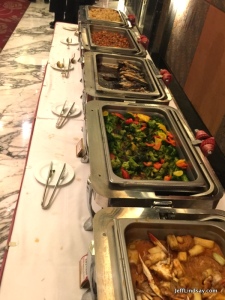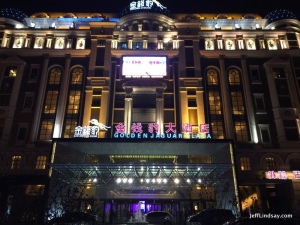 There were also some "sushi rolls" that were just rice and radish or other veggies. These sliced rolls came with a safety problem: some were still wrapped in thin cellophane that guests would ingest if they didn't notice and peel it off before eating their slice. After someone on my table apparently ate one, I pointed this potential danger out to a worker, who blew me off by saying that the plastic was necessary to prepare the sushi. There was not an attitude of serving the customer that night! I went to someone more senior an explained the problem again in great detail, asking repeatedly to make sure he understood that yes, this was a safety issue and should be resolved. Nothing happened for a while, but later I did see that the rolls they brought had the plastic off.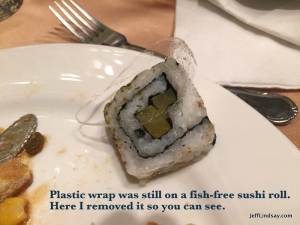 I feel that they really took advantage of our group. If that is their attitude toward customers, I won't be back.